Andrew Beccone
Andrew Beccone is a librarian, musician, and artist. He is the founder and director of the Reanimation Library, and the co-curator of the 2006 Library show at Proteus Gowanus. He holds an MLIS from the Pratt Institute and works as the librarian at the Marian Goodman Gallery. He plays drums in Gost Trio and lives in Brooklyn with his wife, Rachel Bers, and their small menagerie of stuffed beings.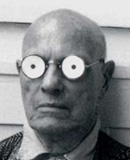 Ernst Benkert
Ernst Benkert, born in 1928, grew up in Winnetka, Illinois, reading the Sunday comics and listening to Art Tatum records with his father, an architect. He graduated from Harvard in 1953 after a tour of duty in occupied Japan, where he bought woodblock prints in Kyoto. Then, after a few years of travel and painting in Europe, where he studied at the Oskar Kokoschka Summer School of Painting in Salzburg and the Central School of Arts and Crafts in London, he took up a two-year graduate teaching assistantship at Oberlin College. In 1958 he met Frank and Karen Hewitt and Ed Mieczkowski, with whom in 1960 he founded the Anonima Group. Anonima's decade of work used the grid to investigate spatial fluctuation and optical perception; seeing itself became the matter of their art. In 1965 their work was included in "The Responsive Eye," a show at the Museum of Modern Art in New York. From 1966 to 1990 Benkert taught at Pratt Institute in Brooklyn and also at the University of Vermont. Now living in Brooklyn, he has never stopped traveling: to Europe, to South India, to Turkey, to Argentina to learn the tango ("Did not learn the tango"), to the Yucatan, to Russia, to Guatemala.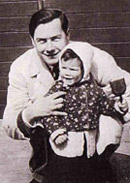 Sasha Chavchavadze
Sasha Chavchavadze is a multi-media artist who has exhibited widely for twenty-five years. She is the founder and creative director of Proteus Gowanus, an interdisciplinary gallery and reading room in Brooklyn. Chavchavadze's project about the Cold War, The Museum of Matches, has been presented as a "one-room Cold War museum" of art, artifacts and books at Proteus Gowanus; as an artist project in Cabinet magazine; in a solo exhibit at the Kentler International Drawing Space in Brooklyn; as an excerpt in Bomb magazine; in readings/slide shows in galleries and libraries; as an archival installation at the Rotunda Gallery; as a DVD called "The Match Game"; and in a commissioned essay, "Game, Set, Match" in the NYFA Current online magazine. She has received awards and residencies, including at the Virginia Center for the Creative Arts and a multimedia residency at the Rotunda Gallery/BCAT.

Tom LaFarge
Tom La Farge is the author of three animal fictions, the novel The Crimson Bears and its second part A Hundred Doors, and a book of fablels, Terror of Earth (all Sun & Moon), and Zuntig (Green Integer). He has written two more novels since then, The Broken House, and Skin, and is at work on a third, Gathering of Ghosts. They form a trilogy set in a country where magic is practiced and the animal nature of people is more pronounced. Tom is now at work on a manual of constrained (Oulipian) writing, 13 Writhing Machines, a series of pamphlets being published by Proteotypes, where he is managing editor. Administrative Assemblages came out in 2008, Homomorphic Converters in 2009, and Echo Alternators in 2010. His Life & Conversation of Animals also was published in 2010, in Proteotypes' Libellulæ series of feuilletons. He is editing Libraries and Danger, a collection of essays. With Wendy Walker he founded and leads The Writhing Society, a class/salon for the exploration of constrained writing practices.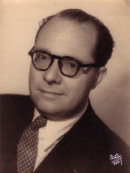 François Le Lionnais
François Le Lionnais, born in Paris in 1901, was a chemical engineer whose wartime participation in the French Resistance led to his arrest, torture, and deportation to Dora-Mittelbau, a division of Buchenwald, where he worked at building guidance systems for V2 missiles—often faultily. Painting at Dora (La Peinture à Dora), his memoir of his time there, describes the means he found, while waiting in the camp yard to be searched and beaten, to make the experience endurable. In 1960, with his friend Raymond Queneau, Le Lionnais founded the OuLiPo, of which he served as president until his death in 1984.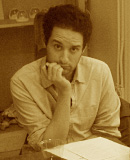 Daniel Levin Becker
Daniel Levin Becker was coöpted into the OuLiPo in 2009 as its youngest member and only the second American to join. In Many Subtle Channels (Harvard, 2012), he gives a history of the group, its practices, and its personalities. He has since translated Georges Perec's La Boutique Obscure: 124 Dreams (Melville House, 2013). He lives in San Francisco, where he works as reviews editor at The Believer magazine.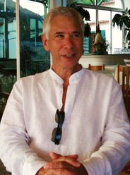 Martin Nakell
Martin Nakell is a poet and factionalist who believes that the experience of art is energy – in literary art an energy achieved by discovering a language new to each work, a discovery which can be achieved by submitting the language to a turbulence. Winner of a Gertrude Stein Award in Poetry, Finalist for the America's Award in Fiction (for The Library of Thomas Rivka), finalist in the New American Poetry Series (Tautological Eye), finalist in the Ronald Sukenick Award in Fiction (A History of Zero & Alter Fictions), Martin Nakell has published The Myth of Creation (poetry, Parentheses Writing Series), Ramon (fiction, chapbook, Jawbone Press/The National Endowment for the Arts), The Library of Thomas Rivka (fiction, Sun & Moon Press), Two Fields that Face & Mirror Each Other(fiction, Green Integer Press), Goings (fiction, Margin-to-Margin Press), Form (poetry, Spuyten Duyvil Press), Settlement (fiction, Spuyten Duyvil Press), Tautological Eye (poetry, Spuyten Duyvil Press), and, with his wife Rebecca Goodman, the freshman composition textbook, The Assignment: Why am I Writing This Essay? (Fountainhead Press).

Erik Schurink
Erik Schurink is an exhibit designer, poet and sculptor. He participates in The Writhing Society and occasionally leads it. He is contributing artist to Abecedarium:NYC, an interactive online exhibition that reflects on the history, geography, and culture of New York City through 26 unusual words, and Galerie de Difformité, an interactive website and novel structured as an art catalogue, which includes his Do not eat this book chapbook, a print-n-assemble-it-yourself-for-free production. He co-curated the Paradise year of exhibits and events at Proteus Gowanus. The photographs in his Cryptozoo series became the basis for the Libillulæ feuilleton of that title, with text by Erik and eleven other writers (Proteotypes, 2012). He and his wife Rita host artist salons at their home. Erik was born at 52°N 6°E. In 1983, he migrated some 78° west and 12° south, making New York his home.
Alexandra Walcott
Alexandra Walcott was born in Manhattan in 1941 and has lived in or near the City most of her life, summering in northwest Connecticut at her family's home, the repository of artifacts and books accumulated by several generations of travelers and collectors. She studied art (history and studio) at Brown and The Rhode Island School of Design, then gold and silver-smithing at The Rochester Institute of Technology. For 20 years she produced limited edition jewelry; then in 1984 she joined the staff of the Objects Conservation Department at the Metropolitan Museum of Art as a conservation preparator, making exhibition mounts. After 25 years at the Metropolitan Museum, she has retired and when not making Fone Art, she pursues watercolor painting.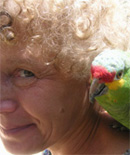 Wendy Walker
Wendy Walker has been practicing and teaching constrained writing for fifteen years and with Tom La Farge founded and leads The Writhing Society, which meets weekly to practice these techniques at Proteus Gowanus in Brooklyn. She is currently at work on Sexual Stealing, which uses a similar method to show how much the discourse of the slave-based West Indian sugar plantation permeates the originating works of English Gothic fiction. She is the author of a novel, The Secret Service, and two collections of tales, The Sea Rabbit; or, The Artist of Life, and Stories Out of Omarie, all from Sun & Moon Press, and Knots, a selection of tales, from Aqueduct Press. Blue Fire, a poetic nonfiction on the case of Constance Kent, was published by Proteotypes in 2009. Hysterical Operators, a constrained dialogue, came out in 2010 from Proteoytpes' Libellulæ series of feuilletons. A collection of her critical fictions, My Man, and Other Critical Fictions, was published in 2011 by Temporary Culture Press.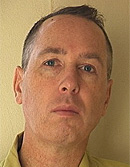 James Walsh
James Walsh was born in Brooklyn, NY, studied literature at Hobart College, Geneva, NY and Oxford University, England, and currently lives and works in Brooklyn. He has been making visual work in a variety of media since 1986, and has shown throughout the United States and in Turkey, Italy, England, and Sweden. He is the author of two books, Foundations (1997) and Solvitur ambulando (2003), and numerous unique and limited-edition artist's books. Awards and residencies include a Fulbright Fellowship to Turkey and residencies at MacDowell Colony, The Edward Albee Foundation, Art Omi, and Center for Book Arts. His work comes out of a love for natural history, particularly the history of natural history.  For the past three years he has been learning botany by identifying, pressing and mounting plants found in his neighborhood, which has resulted in two ongoing projects, A Flora of the Gowanus and the Index to Arctic Plants of New York City.