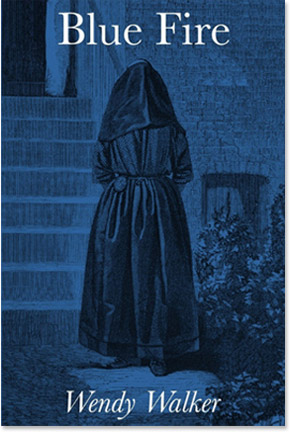 Wendy Walker composes a magnificent book incorporating found text, [and] visual elements, in which voluminous research… is translated into a crisp, angular, paratactic poem, which, in turn, becomes a filter for the research.
—William Gillespie, Spineless Books
Blue Fire
by Wendy Walker
In BLUE FIRE, a major new work in poetic non-fiction, Wendy Walker reexamines the case of Constance Kent, protagonist at 15 of "the Great Crime of 1860." Accused of murdering her younger half-brother and stuffing his body down the privy at her father's house at Road in Wiltshire, Constance was cleared at the coroner's inquest. In the view of most at the time, the boy had been killed by his father and his nurse. Yet five years later in 1865 Constance, under the influence of a priest, confessed to the crime. Her death sentence commuted to twenty years in prison, on her release she left England to spend a further sixty years as a nurse in Australia. The murder and the investigation inspired both Wilkie Collins' The Moonstone and Dickens' The Mystery of Edwin Drood.
It also was the subject of the first true-crime book, The Great Crime of 1860, which Joseph Stapleton wrote largely to exonerate his friend, Constance's father. Walker has taken this book as the base text for a compositional procedure based partly on the non-fiction work of the poet Paul Metcalf and partly on the mesostics of John Cage. She has selected one word from each line of Stapleton's text and used them in order to create a poetic secondary text, both to bring out the patriarchal bias in his writing and to contest his version of the facts. Then she has gone to books and documents about the case, other books that Constance is known to have read, and still others published between 1860 and 1865, and extracted passages to place facing the sections of her derived text on which they comment. The book may thus be read in two different directions, as a consecutive poetic narrative, and as a commonplace book illustrating the mindset of the early 1860's.
6″ x 9″, 253 pages
ISBN: 978-0-9800001-5-3
$20