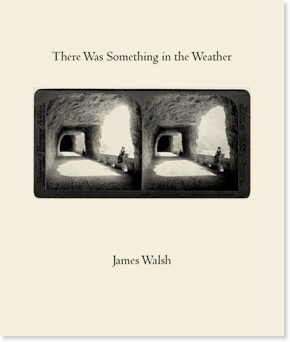 There was Something in the Weather
by James Walsh
John Ruskin is mainly remembered now as a leading Victorian intellectual and stylist, the tireless writer of books (The Stones of Venice, The Seven Lamps of Architecture), essays, and Fors Clavigera, the series of pamphlets addressed to working men. The most influential British art critic of the later nineteenth century, he championed J. M. W. Turner and the Pre-Raphaelites. Ruskin was also famously unstable and spent the last ten years of his life in madness. Massive depressive episodes seem to have given rise to delusions, such as that of a persistent black stormcloud that no one could see but him, and about which he lectured at the London Institution in 1884.
Video- and book-artist James Walsh excerpted text about that cloud in his The Storm Cloud of the Nineteenth Century, the second pamphlet published by Observatory, the exhibition and event space of which Walsh is a founder-member. He also put together a short film and an artist's book, The Black Cloud; in the film, which consists of images of text, the type itself spreads and blurs blackly on the screen. Now he has once more collaborated with Ruskin, this time using material from the other end of his life: the four years after he turned sixteen, fell in love, and was refused. "I have lost her!" Ruskin writes in his journal, which shortly thereafter he divided into a diary for feeling and a diary for intellect. The former, which he called "the book of pain," he later burned. Walsh has arranged as verse a set of entries from the diary for intellect, using line-breaks to underscore the deep sense of loss that pervades what otherwise seem like the observations of a budding Victorian amateur of positive science; but for Ruskin, as his stormcloud obsession reveals, "the weather" always has something in it more than just the weather.
All Ruskin's text has been reproduced in Walsh's distinctive traced-type calligraphy to move it further into a space between the distanced authority of print and the intimacy of handwriting. Contextual material has been added from the editor's notes to the printed journals. There was Something in the Weather is the third in Proteotypes' Libellulæ feuilleton series.
Paperback, hand bound
36 pages
$10