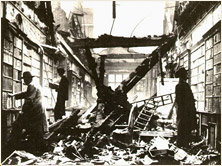 The Proteus Gowanus Libraries Project
Creative Director: Sasha Chavchavadze
1. Libraries and Danger, ed. Tom La Farge
2. Experimental Libraries, ed. Andrew Beccone
A compilation of text and images that grew out of the 2006/2007 "Library" exhibit and programs at Proteus Gowanus, this two-volume set will explore two of the many topics surrounding the evolution of libraries.
The first volume, forthcoming in 2015, examines the life and death of libraries and the healing they bring us in essays written by Corina Bardoff, Susan Bernofsky, Ron Janssen, Tom La Farge, Wendy Walker, and Nathalie Wolfram, with an introductory essay by Deirdre Lawrence, head librarian at the Brooklyn Museum.. It will explore such topics as language-death, book thieves and biblioklasts, the Cotton Library fire, the restoration of the incinerated papyri from Herculaneum, the incarceration of dangerous books and the chaining-up of irreplaceable ones, the shelling of the university library at Leuven and the Vijecnica in Sarajevo, and the looting of the Bayt al-Hikma in Baghdad. This volume will include images of burned, bombed, rotting, and neglected libraries around the world, as well as of beautiful living, life-giving libraries.
The second, edited by Andrew Beccone of Reanimation Library, explores a flowering of small alternative libraries that have appeared around the country as the role of the library, and the book itself, is questioned. Shelley Jackson's Interstitial Library, the collections of Jeffrey Schiff and David Gatten, Julia Weist's Deaccession.org, Public Collectors/Temporary Services will all be represented in text and images, as well as the Prelinger Library, the Chicago Underground Library, Reanimation Library, and the Morbid Anatomy Library.
Proteotypes invites you to support the publication of this beautiful, innovative, illustrated book by an advance donation.  We are offering three levels of participation, at $50 +, $100 +, and $150 +.  Donors at every level will be thanked by name in the books.  Those giving $100 or more will receive a free copy of one volume, of their choosing, and those giving $150 or more will receive both. Please also watch for our Kickstarter campaign!
……